Growtopia
2.999
MMO Game – Create a World of Your Own
If you are a fan of online games that let you build and create things then you will love this MMO game. Growtopia is a cool game in which you get to build a whole world, create items of your choice and become a character of your choosing. It encourages you to let your imagination roam free and create anything and everything that you fancy. There is an empty canvas provided to you and your job is to fill it with anything that you can think of. You have no restrictions in this game so you can create whatever you want using the materials that you could find. Aside from creating your own world, you can visit the worlds created by others and get inspiration.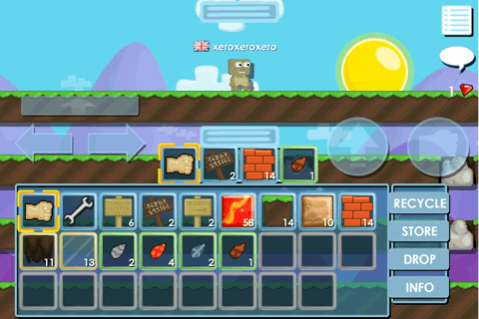 Growtopia has engaging gameplay that is similar to that of the widely popular sandbox building game, Minecraft. The graphics of this MMO game resemble that of Minecraft too. However, what separates this game from Minecraft is that it gives you the chance to become any character you want. You have total independence over the customization of your character. From wardrobe to accessories to pets, you can come up with anything that is going to make your character look more authentic. For instance, if you want to be a noble queen, you can create a pet dragon. Moreover, if you wish to become a space knight, you can create your own lightsaber. Do keep in mind that you can only create items if you have requisite materials to create them.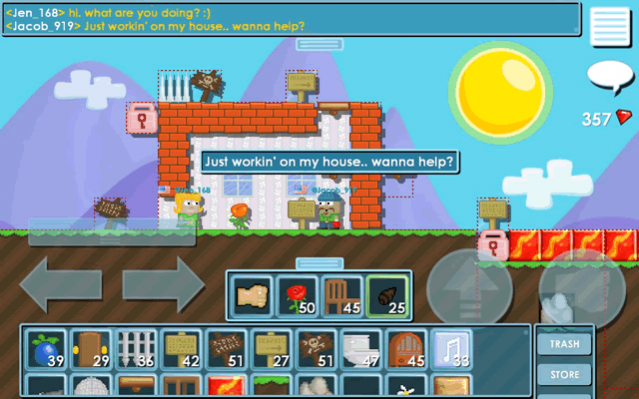 Since this an MMO game, you need to have a working internet connection to play it. You will be asked to create a new ID for the game and choose a nickname but it isn't necessary. There is the option to play as a guest too. However, in that case, your progress won't be saved and you will have to start again from scratch every time you log in. So, it is a good idea to create an ID for playing this game. When constructing any building or crafting any item, you will require some materials. While these materials can be sourced from the world you find yourself in, sometimes you need specific items that aren't readily available. You can get these items by trading them for some material you have in abundance with other players.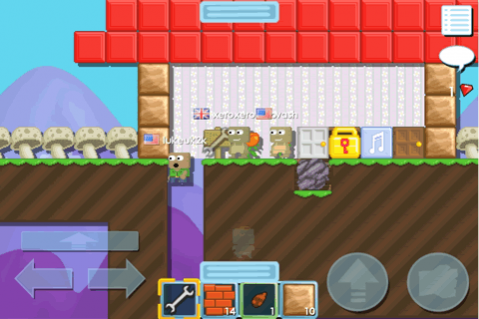 Growtopia lets you chat with other players who are playing the game alongside you. This aspect of the game is very good for making new friends. You can chat with the players and discuss ideas on crafting new items and buildings. Moreover, you can also ask them for the items that you want. In this MMO game, you get the opportunity to play a variety of mini-games as well. These mini-games are created by other players and can be very fun to play. You can go ghost hunting or combat other players in PvP battles. Also, there are races and parkour games in which you have to perform stunts to win. There is much to explore in this game and you won't ever get tired of playing it.
Features:
Lots of worlds to explore
Create your own world
Craft lots of different items
Become a character of your choice
Chat with other online players
Various mini-games available
Trade items with other players
Conclusion:
Growtopia is a gaming app that is aimed at people who love creating new things. It allows them to utilize their creativity and build a world that contains all the things they want. It is a fun MMO game and you will love playing it in your free time.
---
Add a review
Tell us your experience with
Growtopia
2.999
RELATED PROGRAMS
Our Recommendations
---
---
---
---